Beschrijving
Printing Paper Machine From Henan Dingchen Company

Company Introduction:
Zhengzhou Dingchen Machinery Co.Ltd is a company that specializes in manufacturing paper making machines. Our products include paper making machines,pulp making machine,parts and paper converting machines such as kraft paper machines,corrugated paper machines,tissue/toilet paper machines,office paper machines, newspaper machines and so on.
Our factory gathers and trains many essential technicians and management system to ensure all products meet the quality of ISO and update constantly!
Our products have been exported to many countries and regions, such as America, Egypt, India, Fiji, Iran, Ghana ,Paraguay, Russia, Syria,Pakistan, Tanzania, and Uzbekistan. Our products and services have won customers' consistent affirmations.
so welcome to visit and negotiate
Perfect service:
1.technical consultation
2.Plant design
3.installation and test run
4.training engineers and workers
5.good and long time after-sale service
contact & negotiate!!!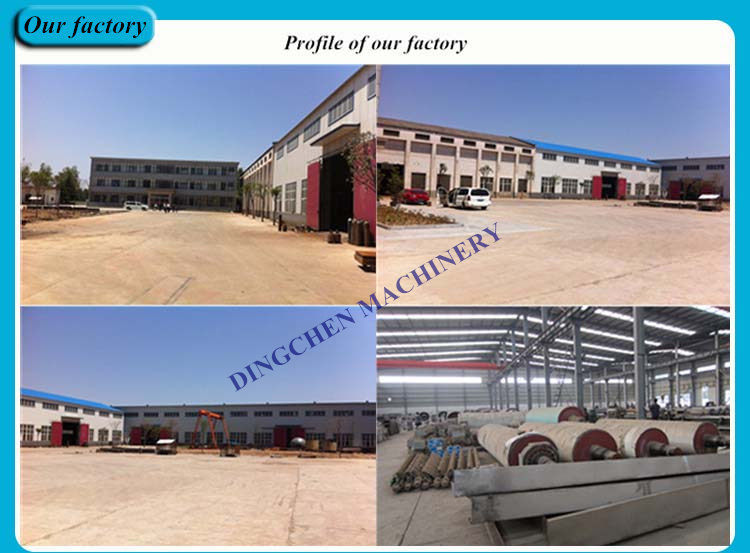 The business process
1.send your requirements:raw material,capacity,paper grammage
2.we make the solution to you
3.come visit and negotiate
4.sign contract
5.first payment
6.production
7.pay spare money
8.delivery
9.installation ,training,test run
10.production consultlation
Our Customers: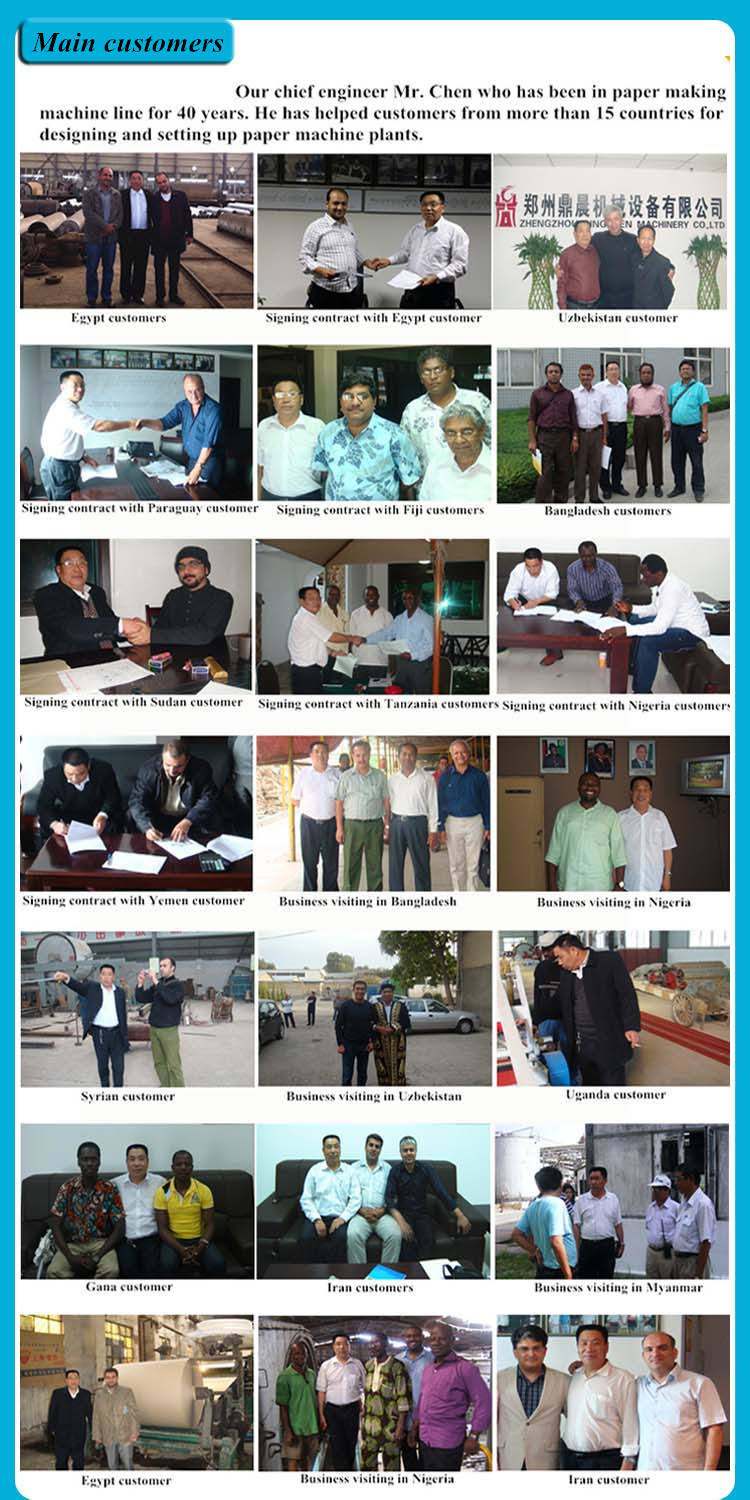 1575mm 10TPD Cultural Paper Making Line
I. Technical parameter
| | |
| --- | --- |
| 1. Raw material | waste paper |
| 2. Output paper | cultural paper |
| 3. Output paper weight | 40-80gm2 |
| 4. Capacity | 10TD |
| 5. Wire width | 1950mm |
| 6. Net paper width | 1600mm |
| 7. Working speed | 90-100mmin |
| 8. Designing speed | 50-150m/min |
| 9. Rail gauge | 2400mm |
| 10. Drive way | Alternating current frequency conversion adjustable speed, sectional drive. |
II. The structure and specifications of main equipment
1. Cylinder part: 1500mm×1950mm×2400mm stainless steel plate cylinder 2 pcs,
400mm×1950mm×2400mm couch roll 2 pcs,
2. Press part: Φ650mm×1950mm×2400mm natural marble roll 2 pcs, Φ600×1950mm×2400mm rubber roll 2 pcs, rubber shore hardness 95ºC±2,
pneumatic pressure device.
3. Dryer part: Φ1500mm×1950mm×2400mm alloy dryer can 6 sets. The first and second are chromeplate dryer cans. It 's equipped with dry felt device, scrapers 6 pcs,
Semi-closed dryer hood 1 set.
4. Calendaring part: three-roll calendar 1 set, and top roll Φ350mm, middle roll Φ300mm, bottom roll Φ400mm.
5. Winding part: equipped with horizontal pneumatic winding machine 1 set. The winding drum is Φ900mm×1950mm×2400mm.
6. Rewinding part: equipped with frame type rewinding machine 1 set.
7. Cutting part: equipped with heavy duty single cutter 1 set.